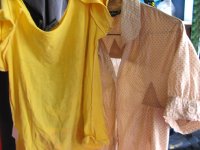 (some of my housemate erica's clothes hanging on the line)

these wardrobe remix folks are so styley. here are a few:
apple green stitches
me loves cookies
lotsa good
one
s
momolo
lucky olive
if i were rosemary woodhouse
lame liar
i like this
one
warholuva
this
one
of course
dear birthday
and
persephassa
lil' slugger
blue
i think the wardrobe remix needs:
some like stylish butch queer girl to post here. wearing buttoned down shirts and slacks. maybe some ties and such.
or someone who just wears cool t-shirts and jeans every day.
someone who wears old-timey seersucker suits and hats.
maybe they're on there. (i couldn't look through all the thousands of photos tonight, though i tried pretty hard.)